Hire our DJ set-up with DJ for your party large or small
Fantastic Tunes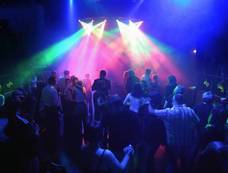 We play all kinds 60's , 70's , Motown , Northern Soul , Club / Dance music, Disco, Hip Hop, R & B , Rock , Reggae , Latin and all years of Pop. We specialise in 80's music , all forms be it Club, Caister, Pop or New Romantic. You won't be disappointed with the dynamic mixes we put together. Our prices are extremely competitive using high end DJ's and professional presenters.



---
Check out our music ......

Click on the audio player to hear a 3 minute sample of great mixes and music through the decades. YOU CHOOSE THE MUSIC FOR YOUR PARTY.



We have our own equipment and 20,000 songs with dynamic party mixes and lights/lasers/spots. Goalpost truss for a display of jellyfish spot lights , along with impressive laser light ceiling smoke effects.

The equipment knocks out 1600 watts which is ample for 250 people and we plays off digital mp3's which gives us the ability to carry so many song. For bigger events (500+) one of our partners can supply a bigger sound.


---

Booking For Xmas Now
Terms of payment : 25% of monies (non-refundable) to confirm booking. 75% paid 6 weeks prior to event.
---
... Testimonials ....... Testimonials ......... Testimonials ........ Testimonials ....
| | | | | |
| --- | --- | --- | --- | --- |
| "Neil is a fantastic DJ that goes the extra yard with detail. I always recommend him" | "I've been to many clubs in New York but this guy knows his music and his audience. Terrific !" | "We've had some awesome 80's nights at the LOL Bar & the success has been down to the excellent mix of music by Neil" | "Neil and his boys did our Music Festival on 2 occasions and really got the 4000 strong crowd going. We continue to use him" | He's always been our 1st choice for events and we get disappointed when he is otherwise booked elsewhere. A real pro ! |